HuntGuide.com:
Published in:
www.huntguide.com
Hunting Guides & Outfitters Directory
Harrisburg, PA March 2011

Huntguide.com
Returns to Sailor's Creek Outfitters
www.huntguide.com/articles/artmar-2011.html
Last year my son Jared and I visited Sailor's Creek Outfitters in Rice, Virginia for a rifle hunt over Thanksgiving and left impressed with the operation (see last year's article on HuntGuide.com). Having nicked; but not recovered a nice buck, I often found myself contemplating what might have been, so when a western hunt had to be postponed, I quickly called Chris McClellan, General Manager of Sailor's Creek to book an early muzzleloader hunt this fall in the hopes of another opportunity for a mature Virginia buck.
The early muzzleloader season in Virginia runs from the last Saturday in October for two weeks, prior to the start of their rifle season. Inline, scoped muzzleloaders are legal firearms for the early muzzleloader season, so I took my Thompson Omega, 50 cal., topped with a Nikon Omega scope. Upon arriving at Sailor's Creek I shot my rifle to make sure my scope was still sighted in and I was ready for the next mornings' hunt.
Also in camp with me for a 3 day hunt were Jeff and Bob Davis who were making their first trip to Sailor's Creek from Vermont. Prior to our arrival during the archery season, just about all the archers had had shooter bucks within 40 yards of their stands but only one nice 10 pointer had been harvested (see attached photo). An 8 pointer had been taken the first day of muzzleloader season (see attached photo) so there were plenty of bucks still roaming the property and the rut was underway.
That night it started raining and the rain continued into our first day so Chris set up Jeff and myself in ground blinds and put Bob in an old barn. I settled into a portable groundblind along an old tobacco drying barn overlooking a food plot of turnips. I had hunted out of this groundblind the previous year and really liked the setup. Around 10am I had a young 8 pointer cross the field around 150 yards out and it crossed into the woods to the right of the food plot. It was a nice looking deer; but probably only 1-1/2 years old as he looked thin and was still dark brown. Around noon, Chris came back and we headed in for a quick lunch. Bob reported seeing more deer in that single morning (5) than he'd see in a whole season up in Vermont.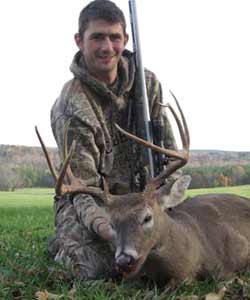 After lunch I headed back to the same spot as it was continuing to rain. Around 2:30pm a doe came out of the woods right around where the 8 pointer had entered the woods earlier. She seemed excited and kept looking back towards the woods, so I setup on her back trail in case a mature buck followed her out into the food plot. After a few minutes she left the field at the back right corner around 200 yards away. Soon after that, the rain let up and around 3:15pm I picked up movement as a nice tall racked buck was walking along the right side of the field in from where the doe had left. As he got to a hay bale I had ranged at 175 yards out, he paused and I thought he might cut into the woods where the 8 pointer had in the morning. Fortunately he kept coming closer and he looked to be a shooter buck with a spread outside the ears and at least 4 points to one side. When he was around 135 yards out he stopped broadside and again seemed to be ready to cut into the woods. I was using a Bogdog Tripod inside the blind and was steady on him behind his shoulder. Since I was sighted in dead on at 100 yards I held a couple inches high and squeezed off the shot. Through the smoke I could see he had done a 180 and was running out into the food plot. He looked like he was hit hard and after around 40 yards he piled up in the field. I reloaded and watched him for any movement for several minutes; but he was down for good. After 20 minutes I gave Chris a call to see if he wanted me to stay there and hunt for a doe or if he wanted to come and get the buck out of the field. Since this is a good field for bucks looking for does, Chris said he'd be there right away and I could hunt a different spot for does.
I waited for Chris to get there before walking up to the buck. He turned out to be missing a brow tine on his right side making him a 7 pointer. His mainbeams were over 20" each and came to within 4" of each other in front, which gave him some nice character. He had a live weight of 150 pounds which would translate to a lot of meat for the freezer. I was also pleased when Chris told me he had a bunch of trail cam pictures of this buck that had been taken throughout the summer and fall. I'd never had any trail cam pictures of any of the deer I had taken in the past so the pictures make a nice keepsake from this hunt. After the previous year I felt some sense of relief and redemption to have made a good shot and no tracking would be required this year.
Around an hour later as we were starting to cape out my buck, Jeff called to say he'd just shot a buck too. Chris went out to pick them up and came back with another 2-1/2 year old 7 pointer that Jeff shot at 5 yards. When he had gone back out after lunch he chose to use a climber stand and was around 25' up when this buck came under his tree. It had been an 8 pointer but had broken off the G3 on his left side (see picture of Jeff, Bob and me with our deer).
I spent the next morning and evening casually hunting a grass field a few hundred yards behind the cabin where doe are commonly seen. I didn't see any deer; but didn't mind since I had come to Sailor's Creek with the hopes of taking a buck. Since I wasn't real intent on taking a doe I ended up leaving a day early and was very happy to be going home with a buck.
I found out later that Bob hadn't taken a buck; but he and Jeff were thrilled with all the deer they saw and have already rebooked for next fall. They ended up seeing 30 deer between the both of them including 11 bucks. They also jumped a monster buck the 2nd day as they were walking into a spot; but it happened to quickly to get a shot. After the season, Chris told me out of 35 hunters in camp this year they harvested 10 bucks with a couple more having been missed and a couple hit but lost (see additional photos).
I will definitely be returning to Sailor's Creek in future years. Chris does a great job managing the deer and hunting pressure to give you a reasonable opportunity to see and harvest a decent buck. In addition, for me, the Virginia hardwoods are the ideal setting to spend a few days in pursuit of whitetail deer.
For more detailed information on Sailor's Creek Outfitters, visit their website:
www.sailorscreekoutfitters.com
Jim Hegeman
Huntguide.Com
Prostaff
You can reach me at Jim.Hegeman@gmail.com if you have any questions
| | | | |
| --- | --- | --- | --- |
| Archives: | | | |